Sptember 1st
Hannah Platt
Hannahs Bar (open mic)
It was only an open mic night and a spare of the moment thing but Hannah still sounded excellent, considering she was full of cold and could barely speak. Four songs were played, all of which brought conversation in the bar to a grinding halt.
October 14th
The Picket
Failure by Design/Saved by Zero/New Born/Obsolete/Hollow Point/Ogun
Andy (guitarist from ogun) came up to me after the first bands set, "This is doin my head in, one of the bands have just said their bassists not here and now i can't find any of them", is what he said to me.
Failure by design started off sounding good, some good catchy punk riffs from the guitarist and good timing from the drummer and bassist, although the vocals were letting the side down badly.
Saved by Zero cocked up in just about every song they played, whether it was the drums, guitars, singing or bass just depended on what song it was. I think these guys need to practice their set a bit more before their next gig. This came through when they played a cover of the Lostprophets song 'Shinobi vs Dragon ninja' every member of the band was playing at a different speed.
The next band were the ones that dissapeared and were lucky to even be on stage. The first notes of the opening song from New Born reminded me of a song from BLink 182's 'Dude Ranch' album, I immediately thought 'ooohhh no' and, right enough, it was(_(insert song title)_).Theres nothing worse than a band trying to sound like Blink 182, nothing against blink but on of them is enough, the singer even had a similar voice to Tom DeLonge. They played one of their own, which also sounded like it could have been a Blink 182 song, and then finished the set with a civer of Faith (Limp Bizkit version).
The next band to play were Obsolete, three words should explain - Oh My God. This band were amazing from the rough roaring vocals and the extreme axemanship to the drumming. As a guitarist myself, i was amazed at the two guys up on stage and during their version of 'Enter Sandman' i thought he wouldn't play the full solo, at least correctly, but i was wrong, it was played to perfection. Obsolete looked very comfortable on stage and looked as if they had been playing together for about 30 years. I'm not a big fan of metal but obsolete made me change my mind.
The next band were Hollow point, well, can't really say much about them really apart from they dragged a 5-10 minute set out to about 45 mins. It seemed like they were playing one song continually, although they did play 3 or 4, and kept coming to the end, slowing down, doing big drum fills, stopping, etc. and then carrying on with the same song as people went to start clapping.
Now, the band i came to see, Ogun. A metal band based in Liverpool somewhere whose main influence seems to be metallica, could describe numerous bands in Liverpool, but ogun are different. They stand out from the rest of them. Tonights gig was organised by Andy and as i said above, he was stressed out and that can't help much. They come on stage, after a dragged out set by that other band, to the delight of their adoring fans, whom filled up the room. They played the opening rifs of the first song and everyones heads started shaking and people started flying around the room, bumping into each other & stuff, i believe this is what they call moshing. Again, the guitar skills of the Ogun frontman, Paul, were amazing, some great solos thrown in and he's also a dab hand at the drumming stuff aswell. Swapping places with Richie for one song, which was dedicated to JoJo's nan because she gives him smack (not really, just a joke) seemed to get the crowd going. When everone had stopped laughing at JoJo's nan and all members were restored to their usual posts, they continued to enthrall their addoring fans with their grinding guitar riffs and superb drumming. You can clearly see the metallica influence coming from Ogun without them sounding like a tribute band. Great gig fellas, be sure to tell me when the next one is.
Mick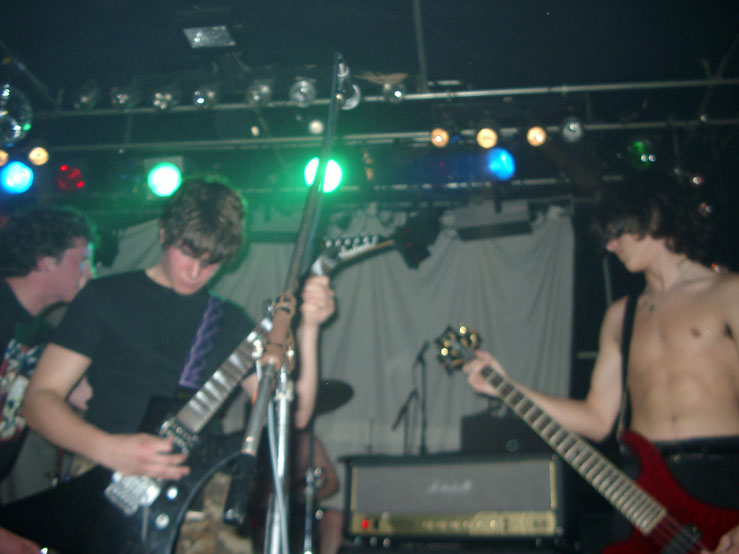 Obsolete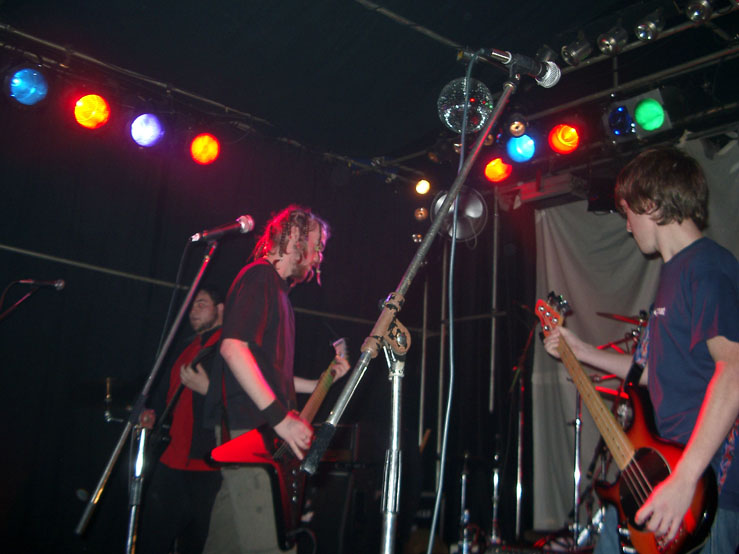 Ogun
15th Semtember
The Brewery
Surge
Surge were awful, nah, only messin'. They were great and thanks fellas for putting your set forward so that we could see you (and Tom for letting them). Sorry to all the other bands for not being able to review your sets but i couldn't stay.
The days when Mark Hughes and Jay Mann were in the band and they opened their set with 'Blitzkrieg Bop' have long gone, instead of sounding like their one time heroes Greenday they have progressed and have started to sound more like the old-school British punk legends of the 70's & 80's.
Aaron Bolands huskey vocals have done wonders for the three oiece from Huyton, his voice has transformed Surge from an average pop-punk band to a superbly talented proper 'punk' band. With his songwriting capabilities they are sure to carry on for a long time to come when combined with the other two members of the group.
Surge started tonight with their usual set, Joe was drumming like a madman and you could see a number of people watching in anticipation to see if the drummer was going to hit himself in the head as he closed his eyes and leaned closer to the kit as his hands started to blur. Danny is also more noticable these days as he makes his presence felt by making more of an effort to move these days.
With their fast bass & guitar riffs and superbly executed drumming, you can see that this band have known and played with each other for a long while. They seem to be getting tighter as a unit and, dare i say, better as each gig passes.
Mick